Resources
Utica First Insurance Company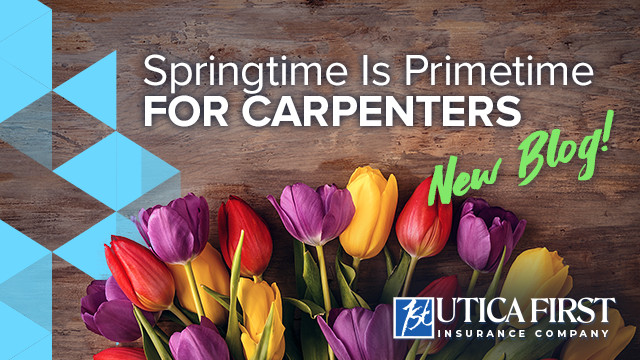 March ushers in spring, spring ushers in new beginnings and new growth. March also brings with it a new season of business for carpenters as businesses and homeowners are looking to tackle all those projects that had to wait during the cold months.
Carpentry is a versatile, physically active, and hazardous profession that faces unique risks. To mitigate these risks, Carpenter business owners should ensure they have full coverage in place to weather financial liabilities should accidents resulting in bodily injury or property damage occur.
Types of Carpenter Businesses We Write
Cabinetmakers
Window and door contractors
Framing contractors
Interior or exterior carpentry work (3 stories or less)
Residential type repairs and remodeling
No matter the level of precautionary care taken, mishaps can still happen. For over 25 years, Utica First has offered general liability policies for carpenters that protect their businesses and their bottom lines.
Highlights of our Artisan Contractor Policy for Carpenters
We count over 40,000 contractors who trust in us because of the breadth and depth of our customizable coverage which includes:
Businesses of 1-10 employees eligible
New Ventures eligible
Cabinetmakers
Window and door contractors
Residential type repairs and remodeling
Interior or exterior carpentry work (3 stories or less)
Framing contractors
Furniture repair
We specialize in providing strong liability insurance coverage at a reasonable cost
Easy billing, too! Checks, Credit Card, and Automatic Monthly Payments available
No Audits! Rated on number of employees
Blanket Contractors Equipment coverage available
Small Tools coverage available
Add our exclusive Tool Box or Tool Chest endorsements for a great deal on bundled coverages
For over 25 years, Utica First Insurance has been a leader in providing carpenters in 9 states the insurance they need and can afford! To learn more about our Artisan Contractor Policy for carpenters, click here. #KeepingInsuranceSimple