Resources
Utica First Insurance Company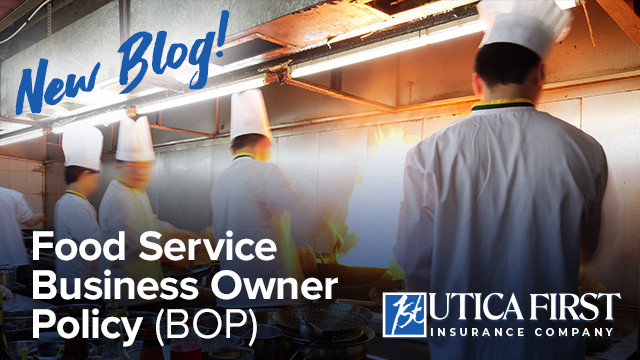 With thousands of satisfied policyholders in eight states, Utica First has been the "Go To" insurance company for over 15 years for a wide range of restaurants and other food service businesses. We pride ourselves on this distinction as a result of our fast, easy quoting; clear, concise underwriting guidelines; and great pricing with easy billing options!
We are also proud that no one writes more types of restaurants or food services businesses than us, from new ventures to long established restaurants or food service businesses, we cover it, including:
Pizza Shops
Bagel Stores
Bakeries
Asian Take-out
Diners
Family Style Restaurants
Cafés
"White Tablecloth" restaurants
Ethnic Cuisine Restaurants
Franchises like Subway, Dunkin' Donuts, Arby's, and more
Our Restaurant and Food Service BOPs have restaurant owners covered. These policies provide protection for general liability (bodily injury, property damage), property (physical location, fixtures, equipment, inventory) and business income (lost income due to disruptions in operations). For added protection, we offer exclusive optional "Appetizer" endorsements for customizing coverages and we have no audits!
Your Restaurant or Food Service businesses can be covered with us if:
Clean, well-maintained and managed businesses
Verifiable continuing contracts for cleaning and updating of Hood, Ducts, and Fire Suppression systems
Risks should be open year-round and located within a Fire Protection district
Alcohol sales must be less than 40% of the total sales
No bouncers, dancing, or significant live entertainment
Restaurant and food service owners have many things to worry about in the daily operation of their businesses. Worrying about the risks of all the what-ifs related to its protection shouldn't be one of them. Utica First can take this worry off their shoulders so owners can focus on what matters most to them—growing their businesses.
Be sure to quote Utica First on all qualifying restaurant and food service prospects! Let us help you help your restaurant and food service owners with one of the best value policies on the market today—the Restaurant and Food Service BOP from Utica First! Learn more here. #KeepingInsuranceSimple