Resources
Utica First Insurance Company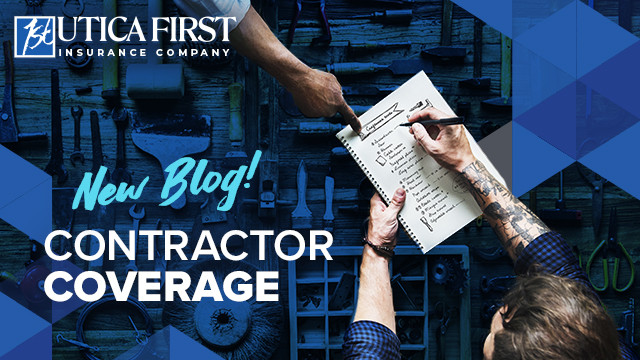 In 2023, Utica First will celebrate 120 years in business. Throughout these years, we have developed products and coverages that thousands of policyholders have come to trust. In fact, over 40,000 contractors have come to trust us to provide peace-of-mind protection for their businesses.
Utica First's Artisan Contractor Policies provide peace of mind by mitigating everyday risks faced by contractors, such as drywallers, residential plumbers, and residential electricians, to name a few.
In the course of business operations, contractor business owners can take many steps to prevent all the what-ifs that could happen. Unfortunately, these efforts are not always enough to protect their businesses and leaves owners exposed to financial risks that they cannot absorb. Utica First's Artisan Contractor Policies can provide the proper protection when the what-ifs do happen.
Coverage Highlights
General Liability – protects a contracting business in the event that bodily injury, property damage, or personal and advertising injury occur
Commercial Property – protects the place where business is conducted and the things used to conduct business
Business Income – covers the loss of income when the business can't run because of a covered property loss
Tools and Equipment – covers vital tools and equipment that are stolen or damaged
Over 40,000 contractors have trusted and partnered with Utica First because we:
Provide excellent base coverages at a very reasonable cost
Have the exclusive TOOLBOX and TOOLCHEST endorsements where groups of extra coverage can be bundled for an affordable price
Offer many other optional endorsements so coverage can be customized
Have been refining and enhancing our Artisan Contractor Policy for more than 25 years!
Have no audits! Plus, we rate a policy by number of employees (we allow up to 10)
Will write a business just starting out
Have several installment plans that allow payments by EFT or credit card

Utica First is known for its long-standing commitment to customer service excellence. We offer both credit card and eCheck payments, and we are always available to help you handle questions. If you have artisan contractors in the states of New York, New Jersey, Connecticut, Florida, Pennsylvania, Ohio, Maryland, Virginia, or Massachusetts, Click here to learn more about how to build the best artisan contractor coverage. #KeepingInsuranceSimple