Resources
Utica First Insurance Company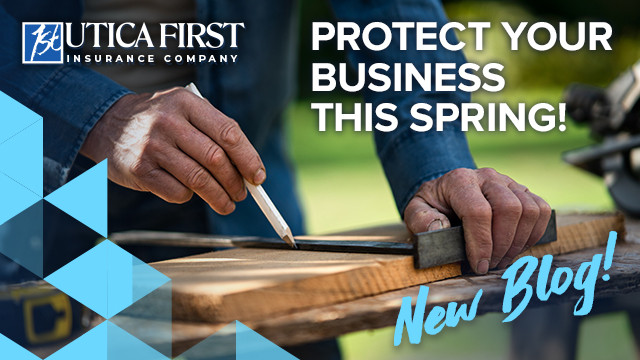 Spring is just around the corner and is primetime for many types of contractors as demand for project work increases after the winter slowdown. As small business owners are growing their businesses during this time, Utica First can ensure they are properly covered with one of its many artisan contractor policies.

Utica First understands the unique nature of contractors' businesses and, with over 25 years of experience, has the expertise to insure them and protect them from financial loss. This gives these business owners one less thing to think about and the peace of mind that, should the unexpected occur, we have them covered.

What Our Standard Coverage Includes
Whether a new venture or a well-established Business, Utica First offers a variety of artisan contractor policies to properly protect these businesses. Coverage includes general liability (bodily injury, property damage), commercial property (where they do business), business income (loss of income when they cannot run their business), and tools and equipment (replacement or repair).
Why Over 40,000 Contractors Trust in Us
Utica First has over 40,000 contractor policyholders because we:
have refined and enhanced our artisan contractor policy for more than 25 years!
provide excellent base coverages at a very reasonable cost.
offer many other optional endorsements to customize their coverage.
have exclusive endorsements—TOOLBOX and TOOLCHEST—where groups of extra coverage can be bundled for a discounted price.
have no audits! Plus, we rate policies by number of employees (we allow up to 10).
will write policies even if the business is just starting.
accept EFT or credit card, with several installment plans, as payment.
Types of Contractors We Write
We specialize mainly in residential contractors and sub-contractors. Some of our most popular contracting classes include: