Resources
Utica First Insurance Company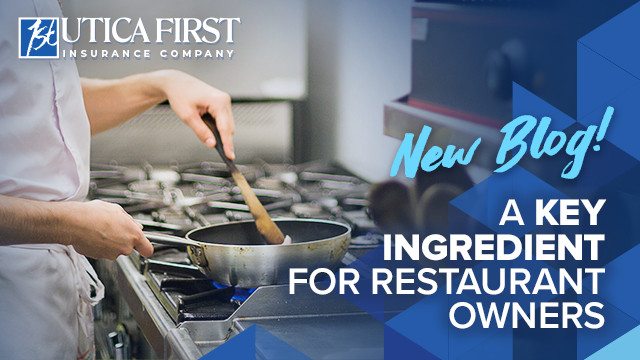 We all know the best risk management practices can reduce many risks facing restaurant business owners, but accidents can still happen.
At Utica First, we understand the unique nature of the restaurant business and have the expertise to protect it. A Utica First Restaurant Business Owner Policy (BOP) can protect these business owners from financial loss should an accident occur.
For over 15 years, Utica First has been the "Go To" insurance company for restaurants and other food service businesses. We pride ourselves on this distinction, as no one writes more types of restaurants than we do because of our:
Fast, easy quoting
Clear, concise underwriting guidelines
Great pricing with easy billing options
Types of Restaurants We Write:
Food Trucks
Cafés
Diners
Burger Joints
Middle Eastern Cuisine Establishments
Fine Dining Restaurants
Mexican Take-Out
Family-Style Restaurants
Franchised Restaurants
Bagel Stores
Pizza Shops
Bakeries
Chinese, Japanese, Korean, Thai, and Vietnamese Restaurants or Take-Out
And many more
What's Covered
Our Restaurant BOP policies provide protection for:
General liability (bodily injury)
Property (physical location – owned or leased)
Property (fixtures, equipment, inventory)
Business income (lost income due to disruptions in operations)
New Venture, No Problem
New ventures considered! Risks must be "year-round" and meet all requirements for hood, duct, and fire suppression systems (contracts for servicing and cleaning must be in place).
Optional Coverages
For added protection, we offer an array of optional coverages that include equipment breakdown and cyber liability.
Coverage is customizable with Utica First's optional APPETIZER (1&2) endorsements! We bundle over 15 additional coverages and limits with a substantial savings.
Make sure your staff quotes Utica First on all qualifying restaurant prospects! More information about our Restaurant BOPs and the full list of what we write can be found here. #KeepingInsuranceSimple