Resources
Utica First Insurance Company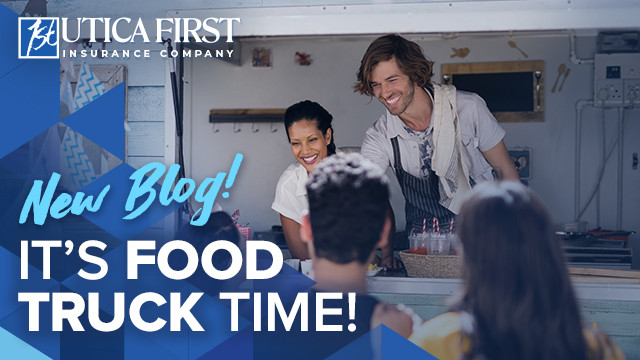 From hamburgers and hotdogs to tacos, BBQ, and even ice cream, a variety of food truck businesses are popping up in cities and open for business as we head into summer.
Food truck owners face many unique risks to the financial well-being of their businesses. Some of these risks include, but are not limited to, food poisoning, burns and cuts, equipment loss or damage, vandalism, and vehicle accidents.
Either as a stand-alone Utica First Business Owners Policy (BOP), or as an endorsement to an existing BOP on a restaurant, Utica First is here to help protect these important investments. But what do food truck owners need to know before determining if Utica First's coverage is the right fit for their food trucks?
What Food Truck Owners Need to Know
Because a food truck is operated as a motor vehicle, it's important to ensure that the truck has a Business Auto Policy to cover the vehicle and the business for operations while driving.
Signing up for our food truck policy is simple. We'll need to understand a little about daily operations and types of service. We will also need the make, model, year, and VIN of the truck.
If food truck owners already have a food truck business or are considering opening one, please know that stand-alone food trucks must be in operation at least 9 months of the year to qualify, unless we already write the restaurant.
Rating is simple! We base it on a minimum of 100 square feet, along with the actual sales.
If the truck has a grill or fryer on board, it must also have a Class K fire extinguisher.
Almost any type of food truck is eligible, with the exception of smokers and wood-fired cooking food trucks.
If we also write insurance on a restaurant for the food truck owner, this policy will also cover liability as a restaurant while the food truck is parked and operating for business.
Commercial Umbrella available up to $5 million.
Blanket additional insured coverage available at insured's request.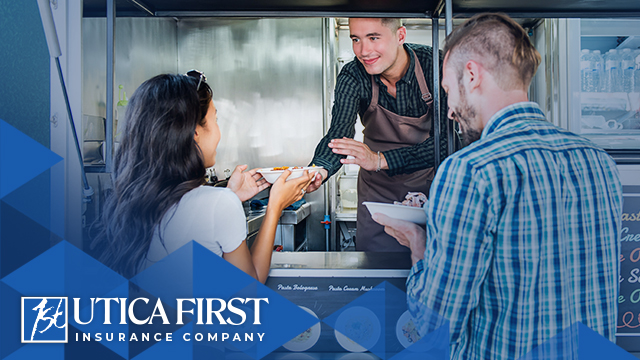 What's Covered
Utica First's Food Truck BOP coverage includes:
Business Property Insurance

Helps protect the physical locations that the business owners own or lease, as well as property such as fixtures, equipment, and inventory.

General Liability Insurance

Helps protect businesses from loss of tools to property damage and advertising injury should it occur as a result of business operations.

Business Income Insurance

Helps replace lost income when business owners are unable to conduct business due to a covered property loss like a fire.
You already know Utica First as one of the best value companies for restaurant risks. Now make sure your staff is also quoting the ever-growing number of food trucks in your area. To learn more about our Business Owner Policy or BOP for Food Trucks, click this link. #KeepingInsuranceSimple