Resources
Utica First Insurance Company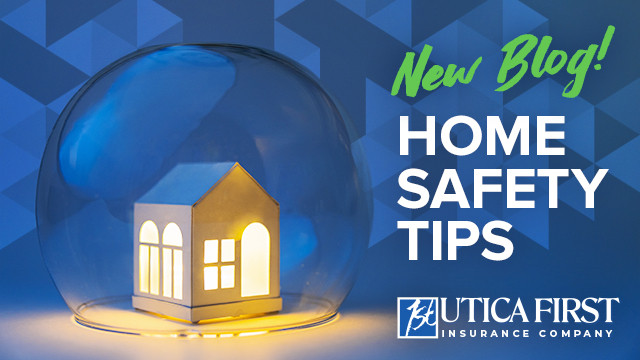 2 min read
With more than 100 years of protecting homes under our belts, we've learned that most home losses are preventable. Here are some of the easy things you can do to help keep your home safe!
Be sure not to place candles near curtains, other sources of ignition, or too close to a wall. Also, be sure they are not on a table to ledge or other location that a cat or other pet might bump into them or knock them over. And NEVER leave a candle unattended and be sure to put them out before you leave a room, leave the house, or go to bed at night.
Have your furnace/heating system serviced annually and change or inspect filters regularly. It will be more efficient and help reduce the potential for carbon monoxide poisoning in your home. In the winter months, keep your outside vents and heating equipment free from snow and ice.
In the winter, use a snow roof rake to remove any sizable buildup of snow from the bottom half of your roof to help prevent ice dams and leaks. And if your house routinely has big icicles, it may benefit from additional insulation.
Before winter sets in, have your gutters cleaned of leaves and other debris that could prevent water from draining. Clogged gutters facilitate ice buildup, which can cause ice dams to push water under your shingles and into your home.
Do NOT use liquid gas heaters or lanterns inside your home.
Maintain clear access to outside propane or oil tanks.
If you have inside water shut-offs for your outside spigots, turn them off before the temperatures drop below freezing.
If you own a pressure washer, make sure it is fully drained before winter.
Take a good look at your yard. Trim overhanging tree limbs and remove any leaning, dead, or diseased trees before they fall.
Do you have a wood stove or fireplace insert? Have your chimney and flue inspected regularly for creosote and never leave a fire unattended.
Frozen pipes can cause major damage. To help prevent frozen pipes, wrap any exposed piping with insulation sleeves. During times of extremely cold temperatures, keep room, closet, and cabinet doors open to allow heat to circulate in your home.
If you are leaving your home for more than a few days, turn off your main water line until you return.
Check smoke and carbon monoxide detectors twice a year. So you don't forget, check them on the same days we set the clocks forward and set the clocks back.
And most important – Does every member of your household know what to do in a fire emergency? Be sure to talk with your children about exit routes and exactly what they should do if the fire alarms in your house go off.